So I'm finally getting this going after I don't know how long of saying I was going too. Course I knew I wanted to incorporate the Fit and everyone knows how difficult it is to find one of those things. I finally got lucky and found it on Amazon.com with free shipping. Free 2 day shipping at that!! Some people I know have asked me to give feedback on how I like it so I figured why not start of with my blogging.
I also figured i'd show some pics and stuff so you can really see what it's like and if it's something you might use. So far, I've been on every day. Granted this is day 4 for me but I've been having fun with it. And we all know your more likely to continue if your having fun. So here we go.
First off you'll want to make sure you have your Mii set up ahead of time as you'll get to use that one when you set up your Fit account. I had already set up mine so i don't have any of those screens. This will start where you are when you turn it on each day.
First comes up the screen where it will show you anyone who is currently set up on the Fit and you can choose who is going to work out.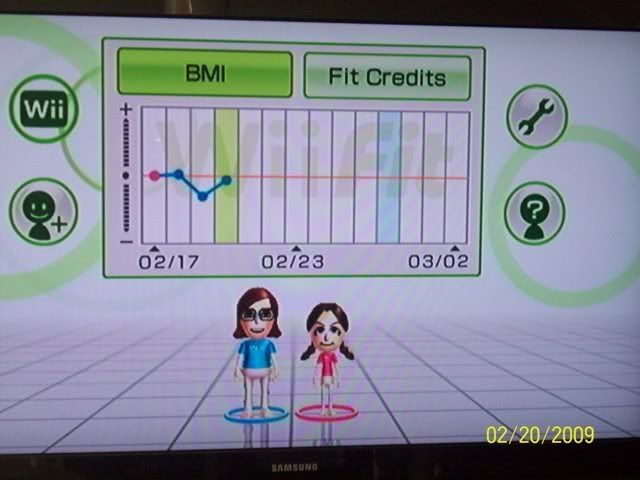 As you can see it will also show a graph of progess. For those who might not want their info plastered on the screen like that rest easy...when you set up your Fit account it asks you if you want your info kept private and even gives the option to password protect it.
Once you select your person you'll see this screen which shows you your graph again and also what day your on.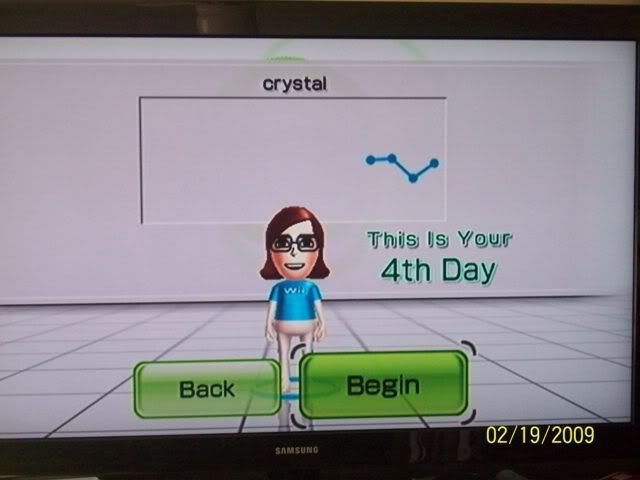 Clicking begin will take you to the calander. From here you can see all the days you have stamped. The stamped days mean you completed at least the body test which I'll go into in a sec. You'll notice there are different stamps. As you complete new days you get new stamps that you can choose from. I actually scored a new one today...a blue star.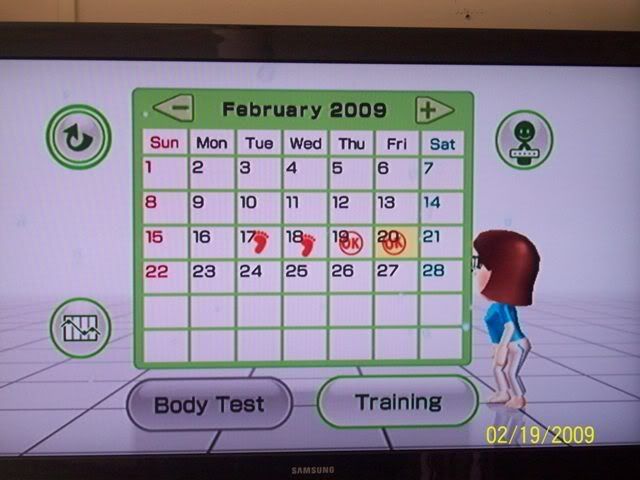 The body test does a couple things. It it basically designed to show how your body is changing as you work out and play on the fit. And yes I say play because most of the work outs are more like games than exercising. In the body test you complete 2 balance tests which check to see how your center of balance is. It's supposed to indicate how your posture is and also some strengths.
It will then do your weight and compare that to the height you entered to get your BMI.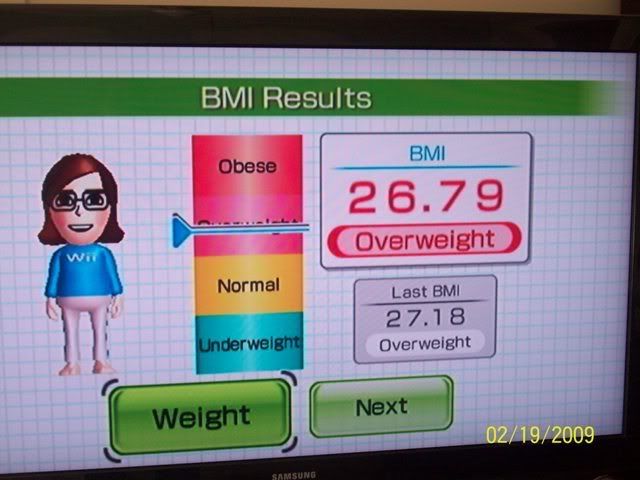 Yes, mine says over weight. Nothing like having it plastered on the big screen right? And do ya see my Mii? Notice how the waiste is a bit THICK. Ya, this thing actually adjusts how your Mii looks based on your information. If you gain weight the Mii gets bigger...lose and of course it gets smaller. It even likes to give you some facial expressions and head shakes when you gain. Personally I think it's amusing and find myself really wanting to see that Mii shrink!
Ok so once you get that it will take you to the graph and show you your progress.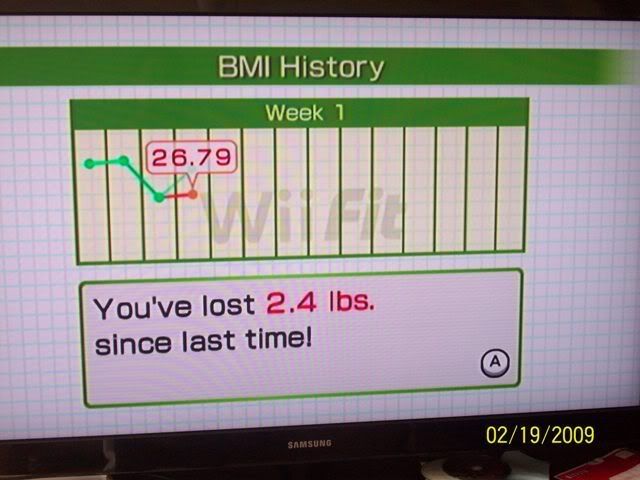 Ok now on to the fun part. The games...I mean exercising. There are a ton of options so you really can change it up and customize it yourself. You'll notice it also keeps track of your total daily time. And you CAN'T cheat on it. The time is based on the time actually spent completing an activity. You can spend 30 minutes in the system but only 20 of it is actually doing games because it doesn't count the time spent choosing what your going to do.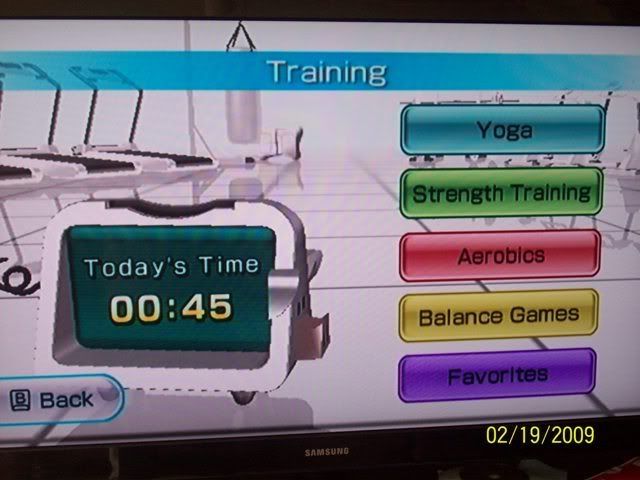 The Yoga and Strength training are pretty obvious. Yoga does various yoga moves that will kick your butt. I seriously have a hard time completing the moves so far b/c I'm horribly out of shape and not flexible at all. Strength training is things like push ups, lunches, squats, etc.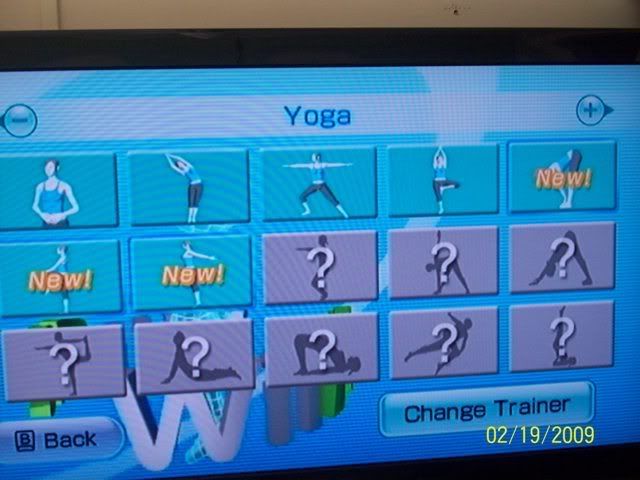 You'll notice as I go through that some of the boxes are greyed out. Those are ones that will unlock as you do more activies.
The ones I use most so far though are Aerobics and Balance Games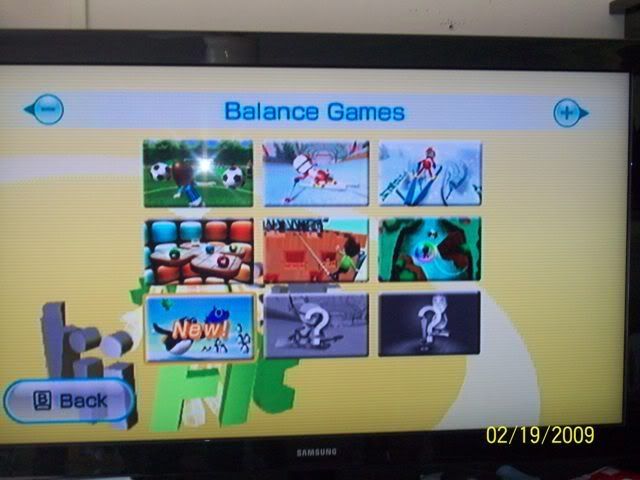 The hula hoop one and the step one will seriously get you moving. I even broke a sweat on it. Here's some photo's from them so you get the idea.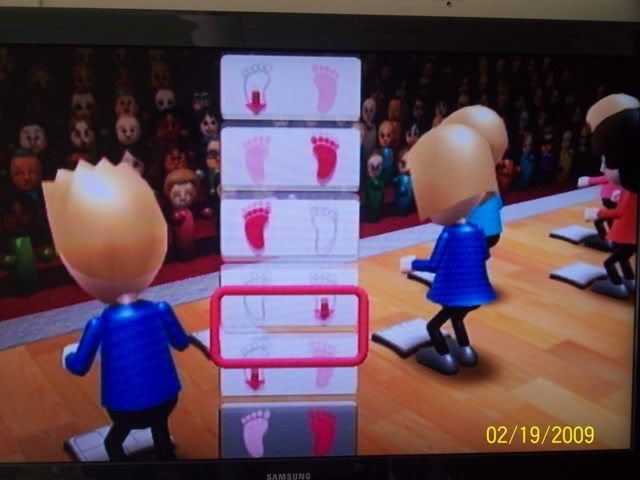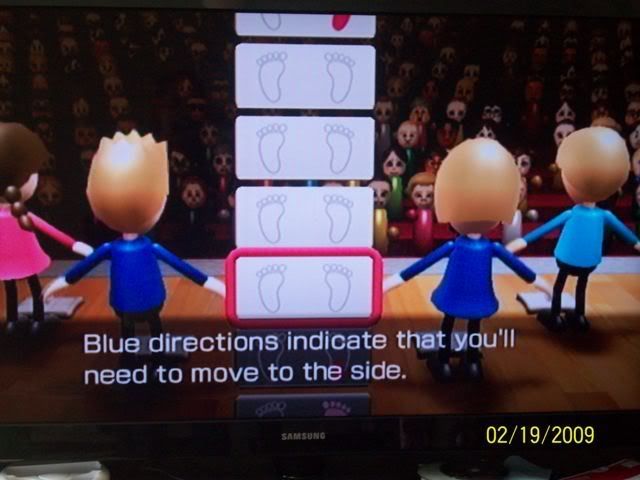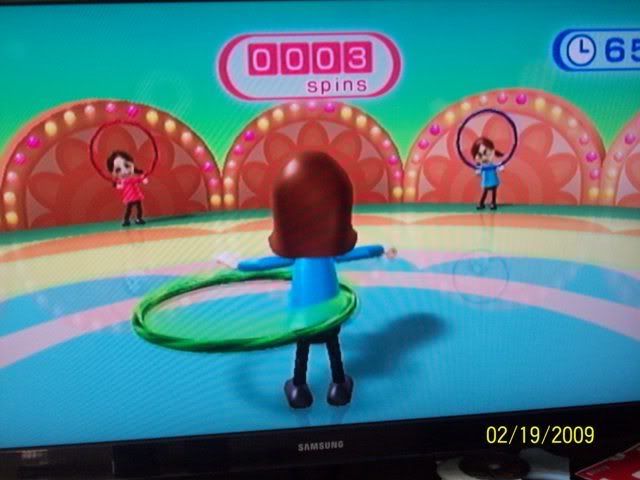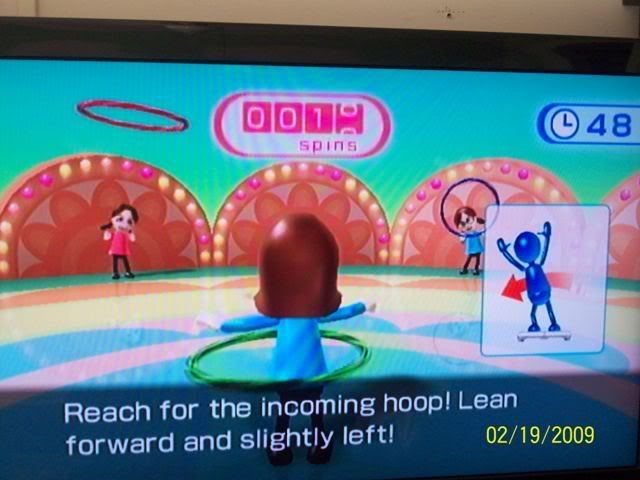 The step one has 3 different levels which the 2 higher ones open up after you master the 1st level. The 1st level is just moving front/back and left right. the 2nd level actually gets you goign side ways and kicking your legs. The 3rd level is just a tempo one for you to do your own steps to a beat. It incorporates this one with the wii remote so that you can even watch tv while you do it and still keep in time. It runs for 10minutes.
The Hula hoop has 3 levels too and lasts longer with each level. The 3rd one is 6 minutes and if you think it's easy...well your hips and abs will remind you that it isn't.
One thing I really like about the system is that it really won't let you cheat. I was doing push ups on the strength one and since you do it with your hands on teh board it picked up that I had sat back and stopped and didn't give me full credit for the activity.
Oh ya and apparently someone ha da sense of humor. In aerobics there is a running in place game which is actually kind cool. As your running your following another Mii to set the pace and there are tons of other ones out running too. Kinda like if you were in a park, there's a water fall, etc. There is also the occasional Mii who trips and falls flat on their face. Seriously...you know you would laugh too.
So thats it I guess. Lots of photo's to hopefully give you a visual. I plan to continue to use mien each day for at least 30 minutes. Then on Fridays I will do an official weigh in and will actually do a photo of the screen and post it. I figure it iwll keep me accountable. Kinda like when you go to weight watchers and have to weigh in. You really don't want everyone else seeing that you gained or stayed the same. Plus,on the graph you'll actually be able to see how my week went with weight changes as well.
Any questions let me know. I may even get some video and post it. It's quite humerous in some of the games.